Glass cockpit uses electronic instrument displays rather than analog instruments and gauges. While my new dashboard has one analog gauge and some traditional marine instruments (like autopilot control panel), it also has three LCD screens, so it can be considered a hybrid "glass cockpit".
Old dashboard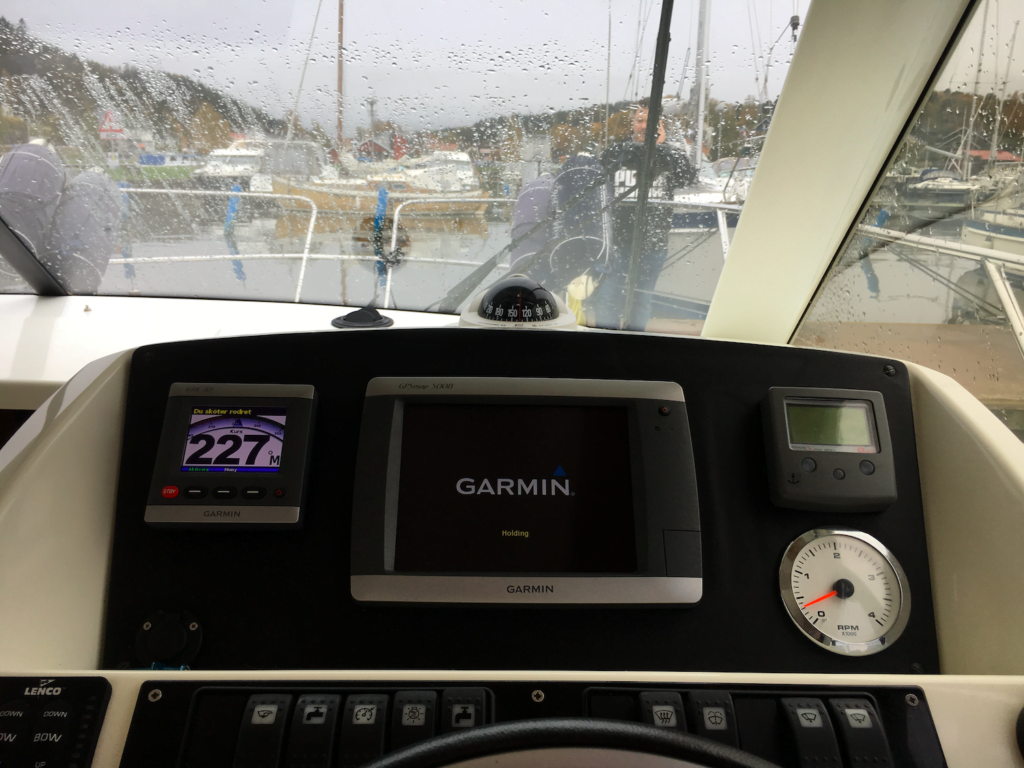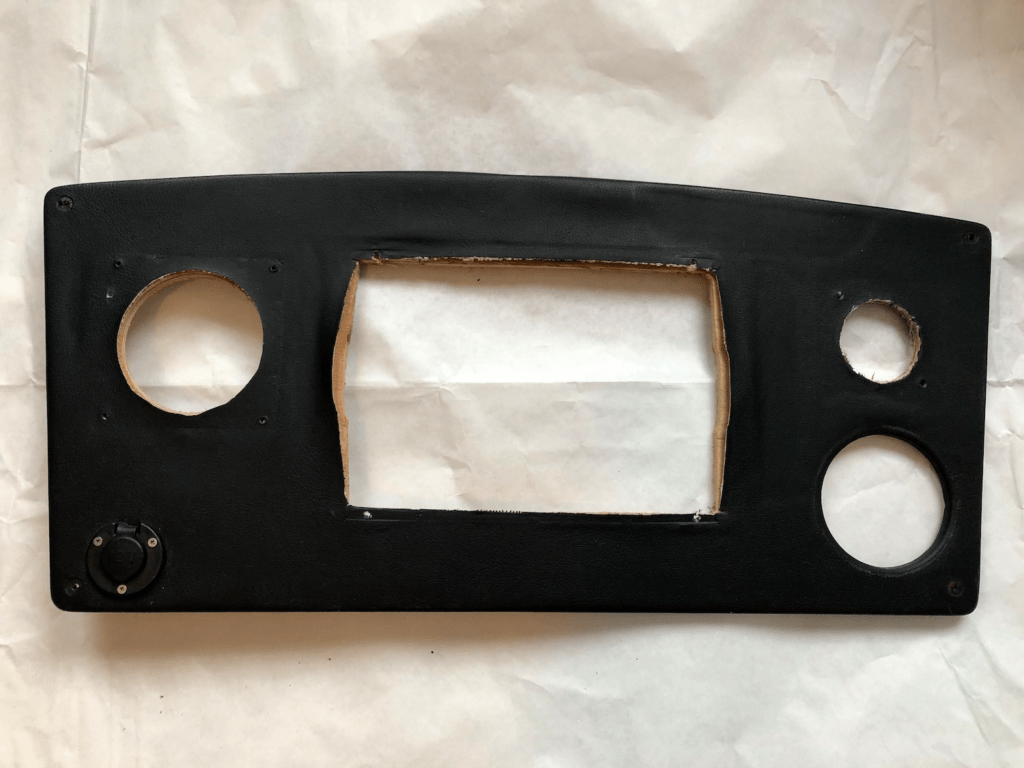 Designing the new dashboard
One of the design principles was that I wanted to keep all the existing instruments (except the Garmin chartplotter which conveniently broke down just before starting this project). I also wanted to fit as large as possible LCD screen to the dash. In addition to that, I wanted two instrument displays.
The current dashboard could not fit all the stuff I wanted so I have to extend it a bit. I searched the web for photos about boat dashboards and helm stations and decided to extend the dashboard in a way that it would not obstruct the view to the front or the compass.
I drew the dashboard with Autodesk Fusion 360, which is basically a 3D design software and definitely not the most convenient one for 2D designs, but because I was familiar with it and also had a 3D design that integrated with the dash, it made sense to use Fusion 360.
I decided to use Lenovo M7 tablets for the two instrument displays, because their brightness to price ratio is next to none and they also have a very narrow bezel. Sure an iPad Pro would have had higher brightness, but it costs 10x more than M7 and would be too large. I also designed a minimalistic frame for mounting the tablets using Fusion 360. I had them produced at Weerg, which is an excellent service for printing 3D models. You can get an online quote for your design and the cost is the lowest I have found. They also offer various materials and finishes for your designs.
Designs
Instead of carving the dashboard out of plywood, I opted for 3 mm thick CNC-machined aluminum.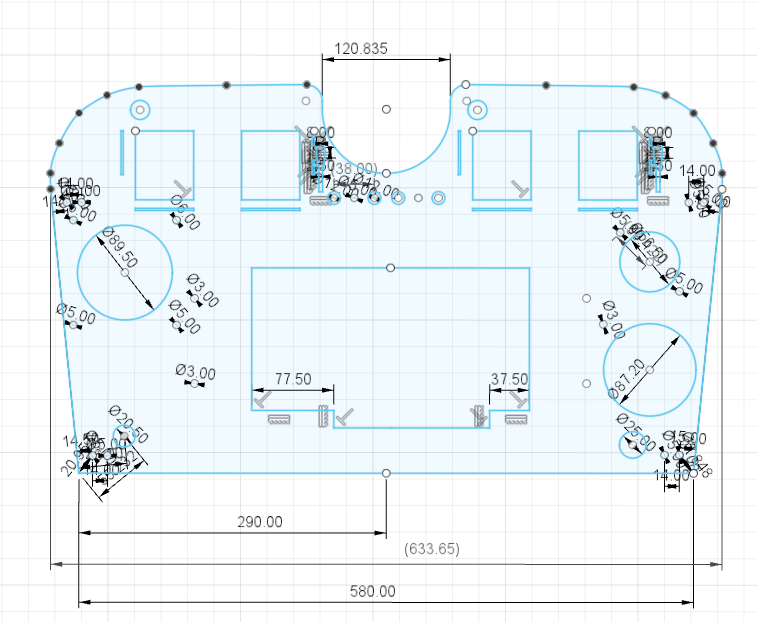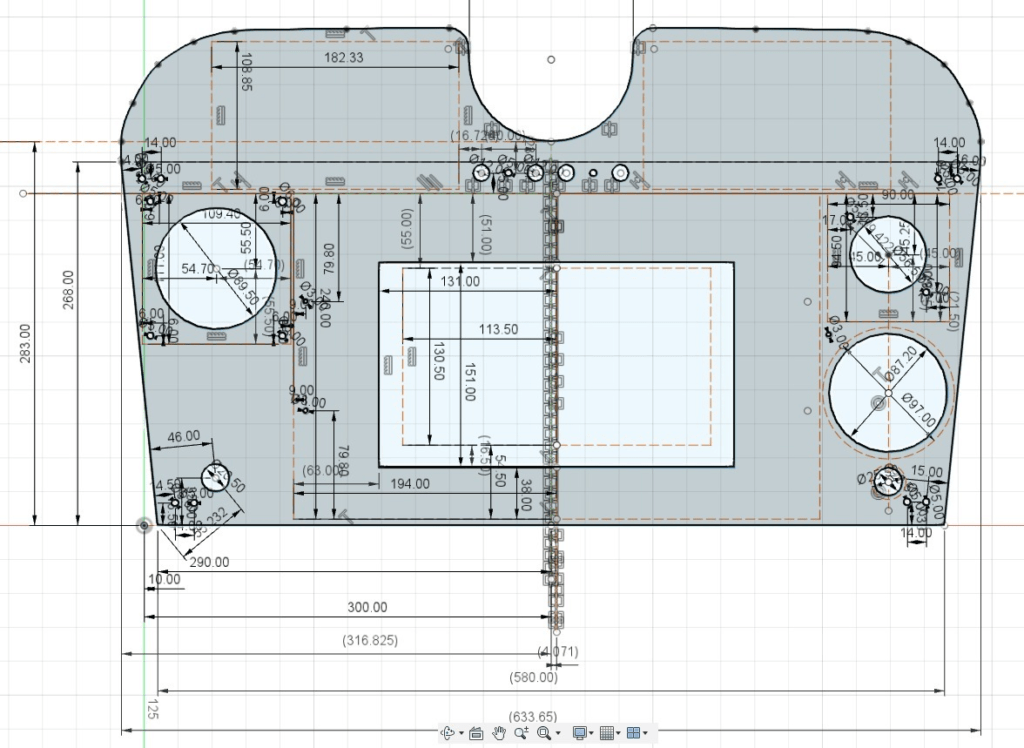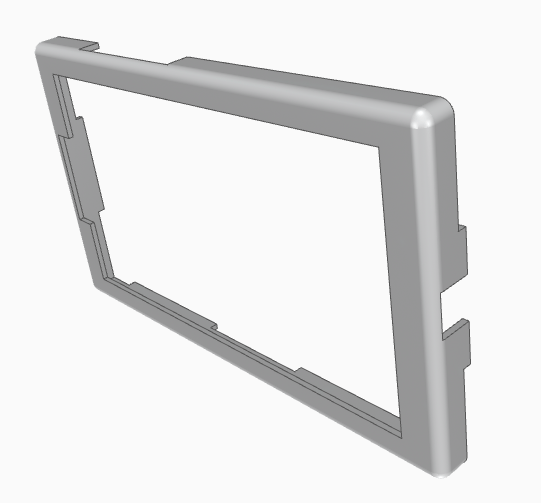 Making the new dashboard
Parts
The aluminum dashboard panel was ordered from Schaeffer AG, which I have also used in the past and found to provide very good quality with reasonable price. I actually moved my Fusion 360 design to their excellent Front Panel Designer software to optimize the cutting and drilling tools and to get an online price quote. The dashboard panel is made of 3 mm anodised black aluminum.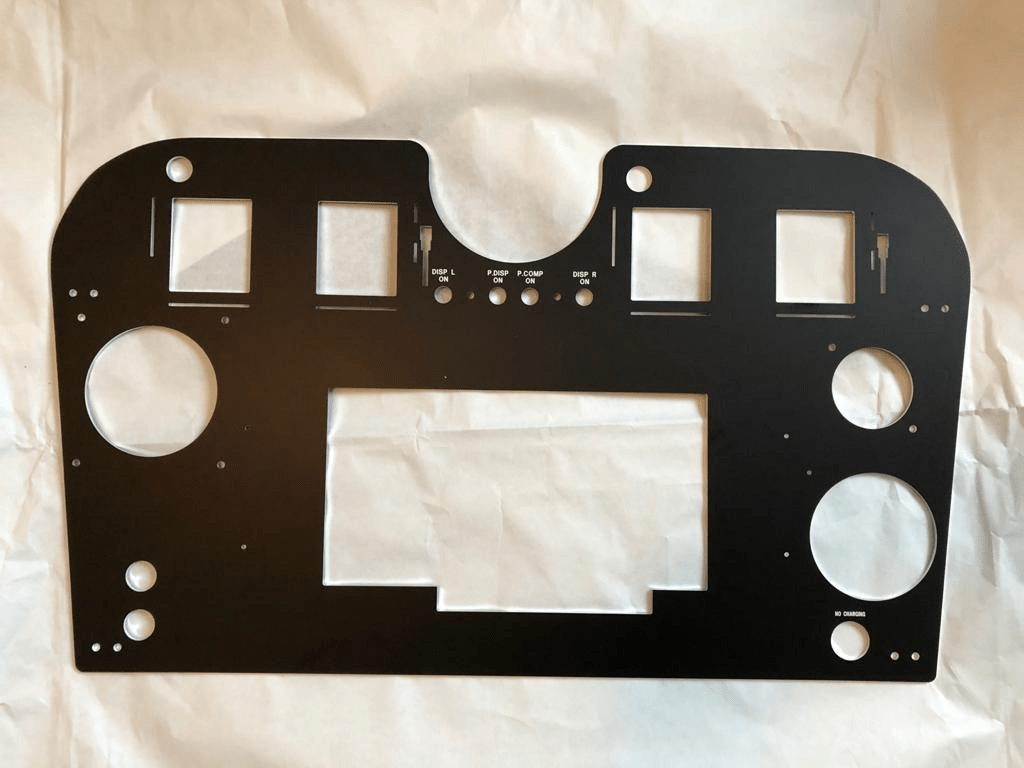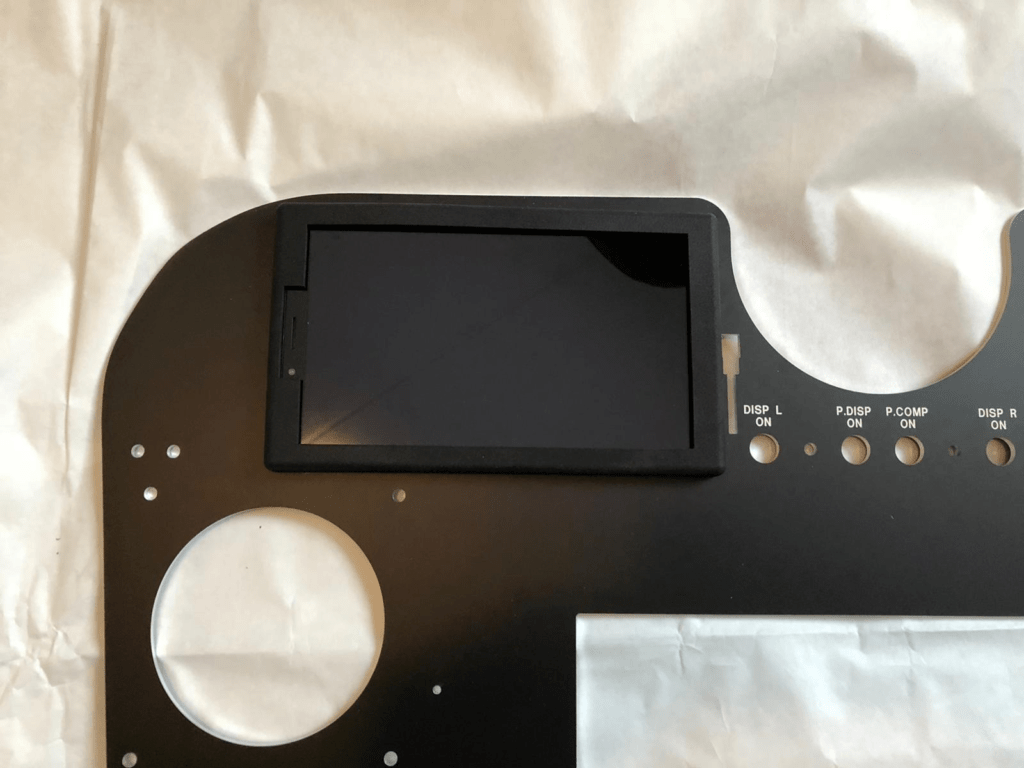 Installation
I had to expand the existing holes quite a bit and drill and machine new holes.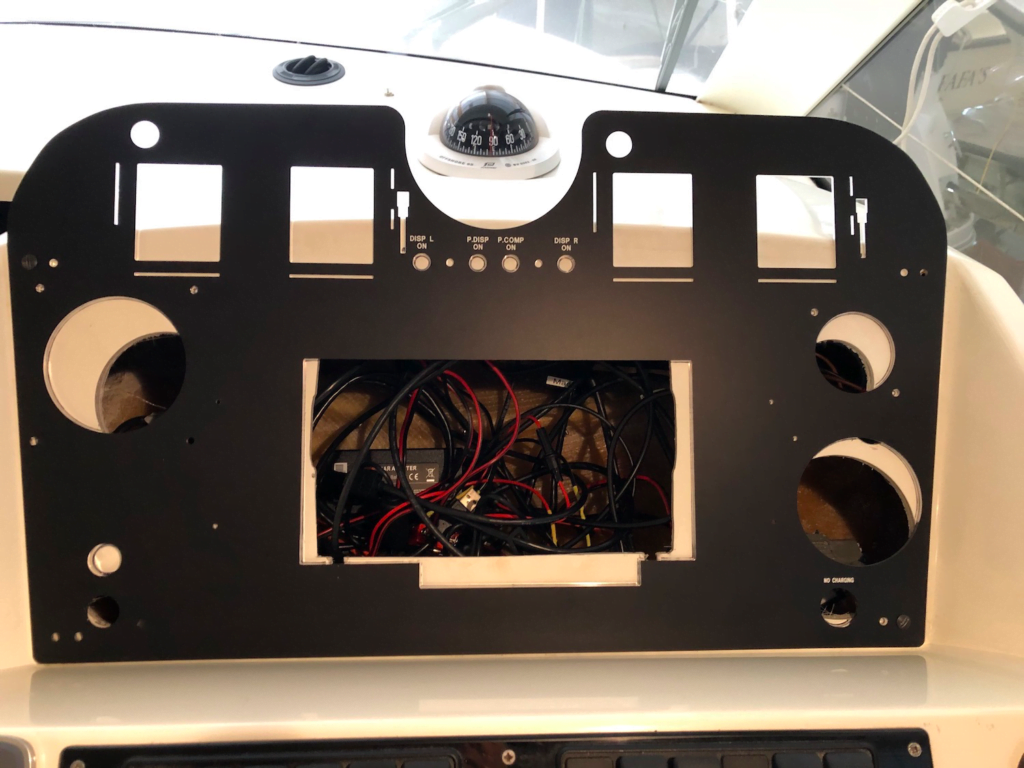 There was quite a bit of work to make all instruments fit. There was only a couple of millimeters extra space between the large screen and the Garmin autopilot.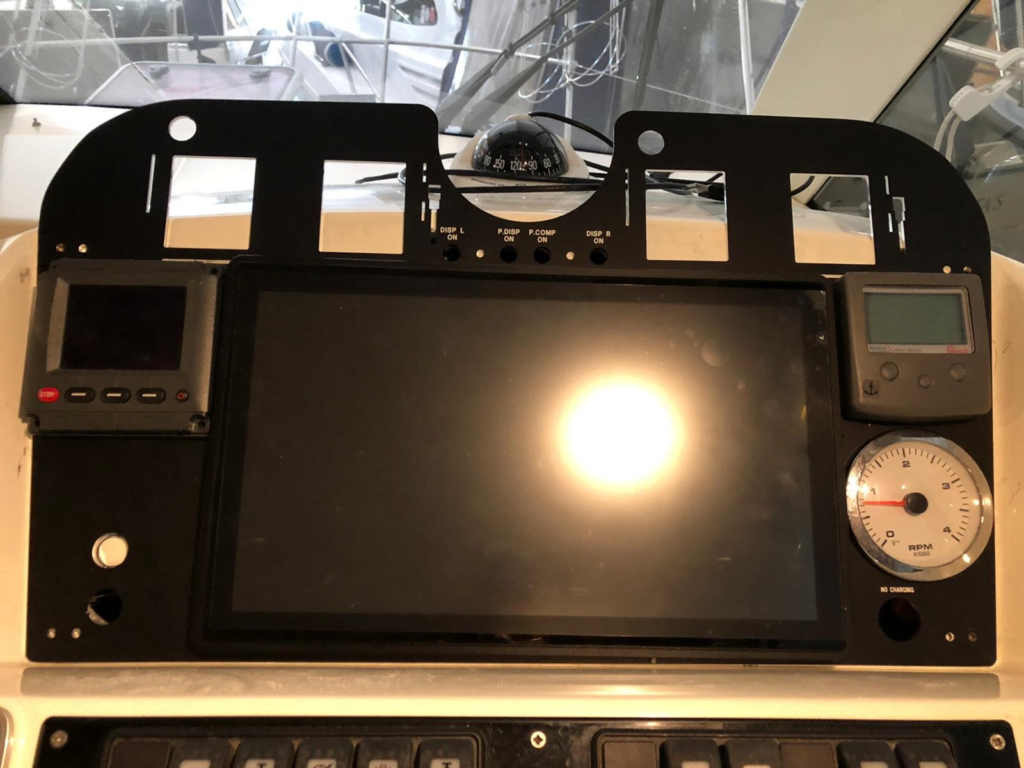 Finished glass cockpit
Glass cockpit includes 15.6″ touch screen display which is connected to Raspberry Pi 4 running OpenCPN and o-charts charts. There is a brightness sensor on the right side of the display. The two 7″ tablet displays run Fully Kiosk app for Android, which loads Yacht Devices excellent web gauges. On the right display, there is a custom designed Node-red dashboard running on my SignalK server. That shows some alarm lights and gauges for the boat pitch and roll as well as info about the water height and wind forecast (fetched automatically from web services).
There is also a 3.5 mm jack connector on the lower left part of the dash to connect an external speaker to the VHF radio. On the lower right part, there are two USB connectors to hook up my custom designed remote control keyboard for OpenCPN and a small touchpad.
As mentioned in the beginning, I also wanted to keep all the existing instruments on the dashboard even though the dash would certainly look a lot cooler without them.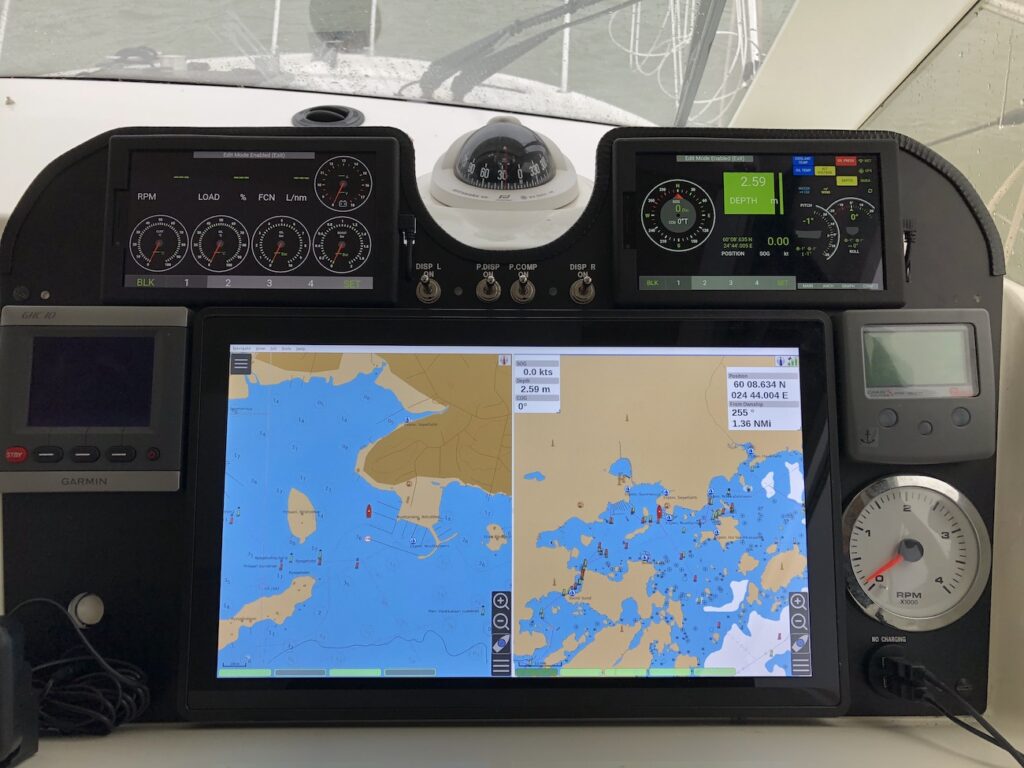 Bill of materials
Below is the bill of materials for the glass cockpit.
Item
Supplier
Units
Total cost
3 mm aluminum dashboard panel
Schaeffer AG
1
€210
3D frames for the tablet displays
Weerg
2
€40
Lenovo M7 tablets
Any
2
€160
15.6″ 800 nits touch display
Alibaba
1
€400
(incl. shipping & VAT)
Raspberry Pi 4 4GB
Any
1
€70
Power adapters (1 x 12V and 3 x 5V USB)
Aliexpress
1+3
€50
Cables, switches, fuses and other misc parts
Various
many
€80
TOTAL
€1010