Go to part 2: Engine and drive considerations
Criteria
Based on the use cases, I created three lists as the boat specification: must have, great to have and nice to have. On those lists, there were a few features that I contemplated therefore listing the pros and cons for those.
Must have
One of the key criteria is the budget. We set the budget to 90k€ ($100k).
Must have features
Length: 8.5 – 10.5 m
Shorter boats are just too small for our use cases. Larger boats are beyond the budget.
Water toilet
At least 4 beds
Inboard diesel engine
Maximum speed of at least 18-20 knots
Traveling longer distances will take too long (for our use cases) if the boat cannot do this. Also a factor to improve safety as you can outrun a storm. For our use cases, we do not need much faster speeds than 25 knots either.
Ability to cruise slower (7-10 knots) with greatly reduced fuel rate
Sizeable cockpit with benches and a table
or at least an option for a table
Boat age between 7 and 15 years
Older boats can be in great condition, but the layout design was done in a different way back then and do not necessarily match our use cases. Used boat price drops the fastest in the first seven years and younger boats are above the budget.
Sizable swim platform
with a ladder
Sizable galley
with a gas stove and oven (no electric stove)
Wide aft door to the cockpit
Makes the boat much more social when the people on the cockpit are not isolated. Even with relatively wide side decks, the aft door is very useful.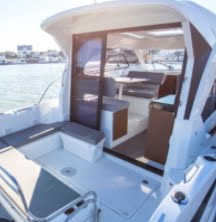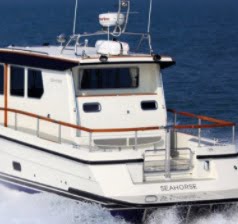 Must have equipment
Bow thruster
Very important in docking and close quarters maneuvering (especially on a single engine boat)
Warm pressurized water
Fresh water shower
Chart plotter
can be installed afterwards but will be costly for a flybridge boat with dual stations
Echo sounder
Refrigerator
Shore power
Trim tabs
Anchor with electric windlass
boat of this size should have a heavy anchor and it is much easier to handle with an electric windlass
Great to have
Manageable by a single person
Should be able to dock the boat single handed, at least in good weather
Flybridge
Good / bad:

much nicer to skipper from the top when in fair weather

creates a lot more deck space to hang around

easier to see when maneuvering in close quarters

center of gravity may be a bit higher

more area for wind to take effect

some people do not like them (not sure why, though)
Walking side deck (at least one)
Good / bad:

easier access to forward deck

easier to dock

safer for kids, elderly, dogs and basically anyone

takes some space from the cabin

considerably restricts the boat choices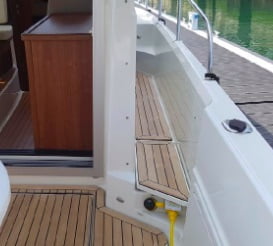 Side door
Good / bad:

easier to dock, especially alone

better visibility to the side

improved ventilations

takes space from the helm and requires that all control devices are mounted to the console instead of to the side of the helm seat

considerably restricts the boat choices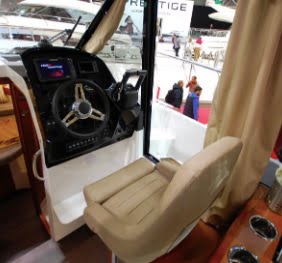 Air draft max 3.5 m
This depends on where you boat, but in our area some bridges are 3.5 m
Navigator seat
Turning seat back is also a good solution if there is no dedicated navigator's seat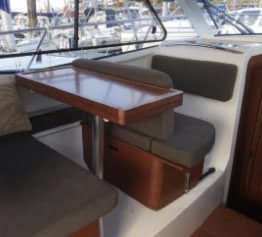 CE design category B boat
CE categories are very broad and category C includes a lot of small boats and almost seaworthy crafts. However, B requires an outside certification and is clearly a proof of better seaworthiness. There are very few under 9 m boats or lightweight boats in general in category B as they have hard time meeting the requirements.
Nice to have
Autopilot
autopilot is pretty expensive to install afterwards
Two engines
See comparison in the second part of this post series.
Automatic trim tabs (automation can be added afterwards)
Semi-displacement (semi-planing) hull
or at least a minimal transition to plane and possibility for relatively low speed planing. Good and bad for the semi-displacement hull:
Good
semi-displacement hull enables economical cruising at any speed, planing hulls enable that only in displacement speed and in planing speed.

typically safer in slow speeds than planing hulls

typically more economical in speed range of 7-15 knots
Bad
lower maximum speed than with planing hull

typically larger fuel consumption with speeds closer to the maximum speed
Radar
Expensive to buy. With chart plotter radar overlay, nowadays much easier to use and interpret than when used to be standalone