Go to part 1: Use cases and general considerations
Drive methods
Each drive method has its benefits and drawbacks. On the other hand, a specific boat model typically comes with a certain drive type, so the boat dictates the drive method, or vice versa. In addition to the ones listed below, there are jet drives, but I will omit them here as they are usually not applicable for the boats that meet the use cases specified in part 1 of this series.
Shaft drive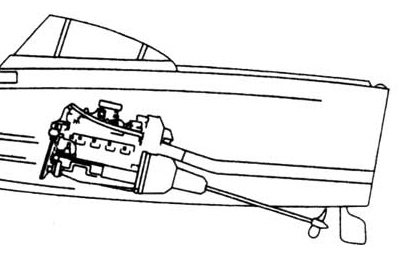 (Direct) shaft drive has an engine mounted typically towards the center of the boat and a direct shaft going through the hull with a propeller in the end. Shaft drive also has a rudder to steer the boat.
GOOD
very few service parts needed and no need to service often,

most reliable drive method and therefore used where highest reliability is needed,

inexpensive to build and to service,

easy to maneuver if dual engine installation,

can provide a good protection to the propeller with a propeller guard
BAD
because the engine is typically under the salon, the noise level in there is louder than with other engine options,

cannot trim the propeller so the angle may not always be optimal,

engine compartment is often more cramped due to being under the salon,

in single engine installations close quarters maneuvering (especially backing up) is more challenging as rudder does not work when backing up
V-drive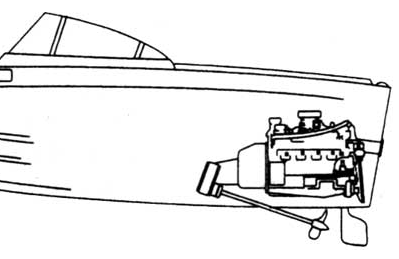 A special case of a shaft drive is a V-drive. In V-drive, the front of the engine faces aft and the shaft and gearbox form a V in order to have the propeller facing astern. The engine can therefore be mounted under the cockpit providing some advantages over direct shaft drive. V-drive is a bit more complex and also moves the weight distribution astern, which may be unwanted.
---
Stern drive
Stern drive has an outboard transmission and drive unit while the engine is located inside. The outboard unit steers the boat by turning.
GOOD
engine can be mounted under the cockpit so the noise level in salon is lower,

engine compartment is often easier to access than with shaft drive,

can be trimmed to shift the planing position (angle of the propellers can be adjusted),

excellent maneuverability both in slow speeds and in high speed
BAD
much more complex than a shaft drive and therefore less reliable,

more expensive to maintain (has to be serviced every second year),

propeller is more prone to make contact as there is no propeller guard (on the other hand, stern drive can be lifted up by trimming)
---
Pod drives (Volvo IPS and similar)
Pod drives have the engine mounted either to the aft or midship. They have a pod that comes straight through the bottom of the boat. The pod turns left and right.
GOOD
king of maneuverability,

fuel efficient,

engine can be mounted under the cockpit so the noise level in salon is lower,

engine compartment is often easier to access than with shaft drive
BAD
expensive compared to all other options,

requires special hull design,

more expensive to maintain than shaft drives,

complex and therefore more prone to have issues
---
Outboards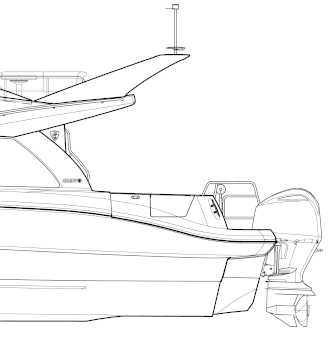 Outboards are attached to the transom of the boat. They have the engine and the transmission in one package. The entire unit turns to steer the boat. Most outboards are gasoline engines. Traditionally, outboards have been powering smaller boats, but nowadays there are even 11 m boats with outboards.
GOOD
easy to service and easy to replace if needed,

can be trimmed and tilted all the way up,

great maneuverability,

doesn't take space inside the hull,

quiet,

inexpensive compared to inboards
BAD
moves weight distribution to aft (and up) which must be compensated by changes in the buoyancy of the hull,

as outboards are typically gasoline engines, the lifetime is much shorter (~1500 hours) than with diesels, and other drawbacks of gasoline engines,

cannot have a good swim platform,

tilting also takes space from the cockpit
---
Single vs. twin engine
Below are the benefits of each type of the marine engine installation.
Single engine
cheaper to buy
cheaper to maintain
consumes less fuel (depending on the speed, 0-50% less than dual engine, based on the tests)
1/2 chance that something breaks
takes less space
less weight
Twin engine
much better maneuverability at close quarters
more reliable because of the redundancy (assuming there are two separate fuel tanks and separate fuel lines1)
more stable at sea (based on some tests)
1 the most common cause stopping a diesel engine is water in the fuel or clogging of the fuel line.
Diesel vs. gasoline engine
Most boat and yacht inboards are diesel engines and vast majority of outboards are gasoline engines. Diesel has a lot of advantages over gasoline in marine use. Marine diesel engines more rugged and more reliable, they provide more torque, diesel fuel has more energy in it (so you need less of it), diesel fuel is much more safe to handle than gasoline (in terms of flammability) and the shelf life of diesel fuel is much longer. Diesel engines can easily run 5 000-10 000 hours before major overhaul, when serviced regularly, whereas for example outboard gasoline engines typically last only 1 500 – 2 000 hours (although the newer 4-stroke engines can last considerably longer). Gasoline engines, on the other hand, are cheaper to manufacture and boast a lot of horse power compared to price (although torque is more important in marine use).